Did you know that the steepest ski slope in the world is located just outside of Interlaken? Right on the Schilthorn, high above Mürren on the mountain of James Bond fame they built a ski slope that is super steep. More specifically we are talking about Run No. 9 "Direttissima" which – with an 88% incline – is sure to provide you a nice adrenaline rush. This daring downhill starts at Birg, the middle station of the Schilthorn cableway, and takes you directly down to Engetal and then onwards to Mürren.
Schilthorn, James Bond & Steep skiing
Schilthorn Piz Gloria is unique among ski destinations, not only for the steepest ski slope in the world, but also for its James Bond fame, its absolutely stunning backdrop of the Eiger, Mönch & Jungfrau mountains and its huge 2175m vertical drop which you can ski in one go. Easily and cheaply visit this amazing ski area with the winterlaken card, that lets you ski the Mürren / Schilthorn ski area and the rest of the Jungfrau ski region (Grindelwald, Wengen,..) for a bargain. For only 40chf per day you get to access 210km of slopes! Available for all guests staying at the adventure hostel during winter time (early December till late April). For details click here.
At Schilthorn Piz Gloria you can literally ski in the steps of 007 whose famous mountain top skiing scenes of "On Her Majesty's Secret Service" was filmed over there in 1963. Descending from the Schilthorn is already no easy task with only one black run with an already steep inclination of 75%. Taking that run will let you reach the Birg middle station where the real steepness starts.
Steepest ski slope in the world
From Birg the real steep skiing starts when you take a right turn directly onto slope number 9 called the Direttissima. The slope is named so as it goes directly and straight down an 88% incline towards the valley. Most days, and surprisingly different from other steep slopes, it is extremely well groomed and super smooth as there are not many people that actually ski it due to the fact that there are also a blue and red run around it. 
Find the Direttissima, steepest ski slope in the world on the slope and piste map of the Schilthorn and Mürren area below. It's the black run number 9 you will be looking for.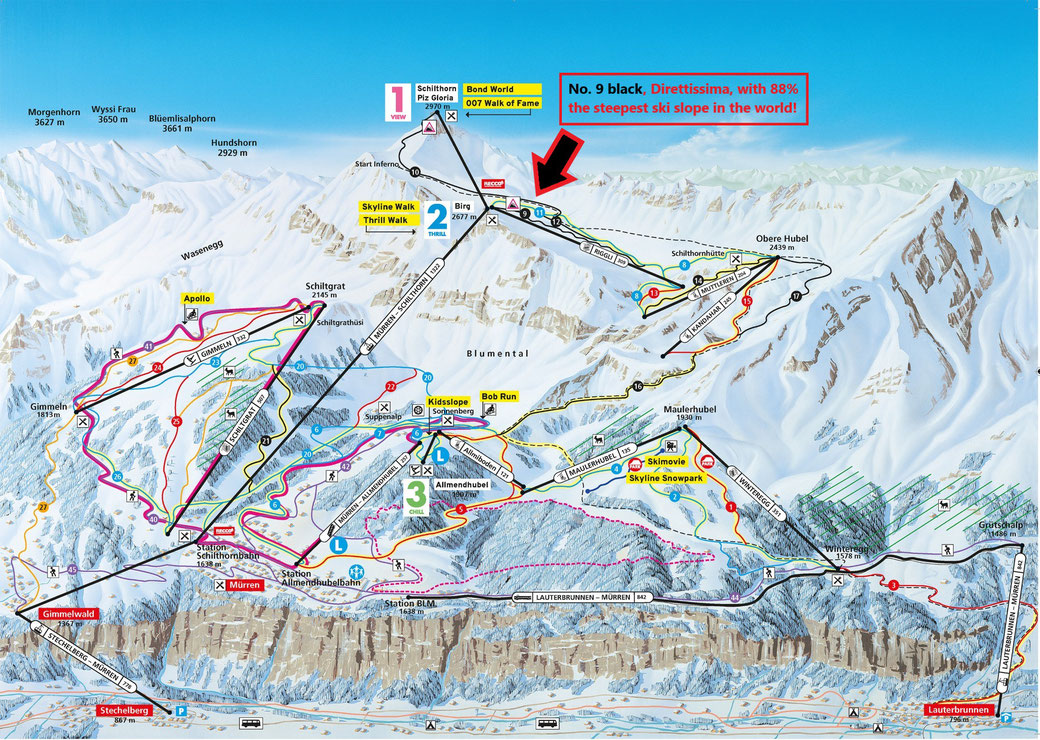 Steeper than the classics
What might come as a surprise to die hard skiers is that the Direttissima with its 88% is steeper than classic steep ski runs like The Streif – Kitzbühel, Austria (max gradient of 85%) and the famous 'Swiss Wall' La Chavanette in Avoriaz also known as the Mur Suisse. It is also steeper than Mayerhofen's legendary Harakiri black run which tops at 78%. 
So come ski in the Jungfrau area and if you stay at the adventure hostel in Interlaken we can provide you with a very cheap winterlaken ski pass of only 40chf a day. Great fondue nights in our fondue restaurant, amazing travel and ski tips and good vibes are guaranteed!