Imagine sitting in a Swiss garden with a nice cheese fondue in front of you, a glass of wine on the side and a direct view of the Eiger, Mönch and Jungfrau mountains. This exactly is the fondue garden restaurant of the adventure hostel Interlaken where, on sunny days, you will simultaneously enjoy the best Swiss cheese and the best Swiss mountain views in a lush garden setting. Bad weather won't stop the cheese party at all as our lovely living room will provide a nice rustic setting and cheese heaven. 
Cheese Fondue Garden at the adventure hostel Interlaken
Starting in the Spring of 2022 the Adventure Hostel Interlaken will be the place to go for a delicious cheese fondue in a lovely garden setting while gazing at the best and most famous mountains of the Alps: the Eiger, Mönch and Jungfrau. 
For just 25 CHF p.p. (min. Two people) you can enjoy one of Switzerland's most favorite and delicious foods: the tasty cheese fondue. Make sure to bring some friends for this social meal where you gather multiple people around the fondue pot, dip bread and potatoes in too much cheese, while having a glass of accompanying white wine and swapping the day's best adventure stories!
Interlaken's best cheese fondue in a garden
A classical Swiss cheese fondue consists of a caquelon full of cheese with bread on the side to dip in the golden pot. This simple but strong recipe is topped with some extra side-dsihes at the fondue garden Interlaken to make it all more delicious and interesting: potatoes, pickles, silver onions, cherry tomatoes and pineapple to make it more special than the standard Swiss cheese fondue fare.
The best part is that you can have your cheese fondue in a lush garden setting with direct views of the Eiger, Mönch and Jungfrau.
Prices & Reservations
For just 25 CHF the cheese fondue villa & garden Interlaken offers you a caquelon full of cheese with bread, potatoes, pickles, silver onions and pineapple to make your cheese experience the best you ever had. If you feel like there is not enough cheese in your pot just give us a shout and we will top you up until you drop!
For those with a sweet tooth we offer apfelstrudel and/or ice cream for desert for 3CHF each or 5CHF combined. 
Beers from 3.50 CHF for half a liter and house wine by the glass (3 CHF), half a Liter (9 CHF) or Liter (16 CHF) or a soft drink for  2.50 CHF only.
A cheap and cheesy evening at the fondue garden Interlaken will surely satisfy your hunger and thirst. 
Reservations required by phone +41 79 827 27 27 to make sure we have a spot for you in our popular Villa and garden
Play stump/nageln whith a cheese fondue
Before, after or while you are having our tasty cheese fondue you should definitely give the tradtional Swiss game of Stump (Nageln In German) a try. Gather with your friends around one of our stumps, with a hammer in one hand and your beer in the other and its hammer time! Last person to hit the nail completely in the tree trunk loses and, according to Swiss tradition, has to buy the next round of drinks! Read more about this great game in our previous blog post "Play Stump & Nageln, the traditional Swiss hammering game"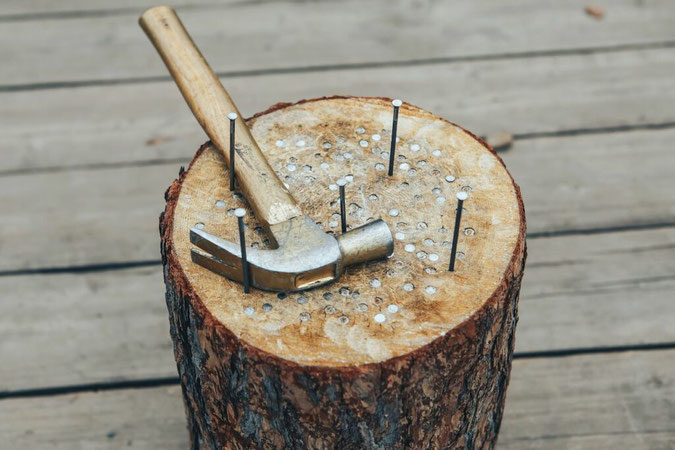 Fondue Garden Interlaken, Opening times & Directions
Opening times
Friday & Saturday's from 5pm - 9pm at the Adventure Hostel Interlaken
Starting 20th May, 2022 all along the summer season
Reservations required by phone +41 79 827 27 27
Address:
Fondue Garden at the Adventure Hostel Interlaken
Seestrasse 44
3800, Unterseen 
Only 7min by foot from the Interlaken West train station
Diagonally across the street from the Hospital