Come skiing in Switzerland for just 40 CHF a day on the 210km of slopes in the Jungfrau region with the fantastic Winterlaken card. This fantastic offer means an almost 50% discount on the normal ski pass price (75 CHF) in one of Switzerland's biggest ski resorts. Amazingly kids under the age of sixteen only pay 20 CHF a day giving families a great discounted wintersports opportunity in the Interlaken & Jungfrau region.
Cheap Skiing in the Jungfrau Region with the Winterlaken card
Most people think skiing in Switzerland is very expensive, driven mainly by some of the highest lift pass prices in Europe. Interlaken shows otherwise with its fantastic Winterlaken card offer. For just 40CHF per day you get access to all 210km of ski slopes, sledging tracks and winter walking trails (only 20 CHF for kids younger than sixteen). The pass lets you ski, hike and sledge in Grindelwald, Wengen, Lauterbrunnen and Mürren including the Schilthorn. For the Top of Europe and Jungfraujoch you pay a small supplement of 49 CHF.
On top of that the winterlaken card gets you free access to Ice Magic, the ice skating spectacle in Interlaken, and a wide range of discounts ranging from 15% discount on Intersport ski hire and a 15% discount on a paragliding flight with Alpinair. The only prerequisite for this super cheap ski, sledging and winter walking pass is that you book a minimum of two nights of accommodation in Interlaken and the adventure hostel Interlaken makes for a perfect base.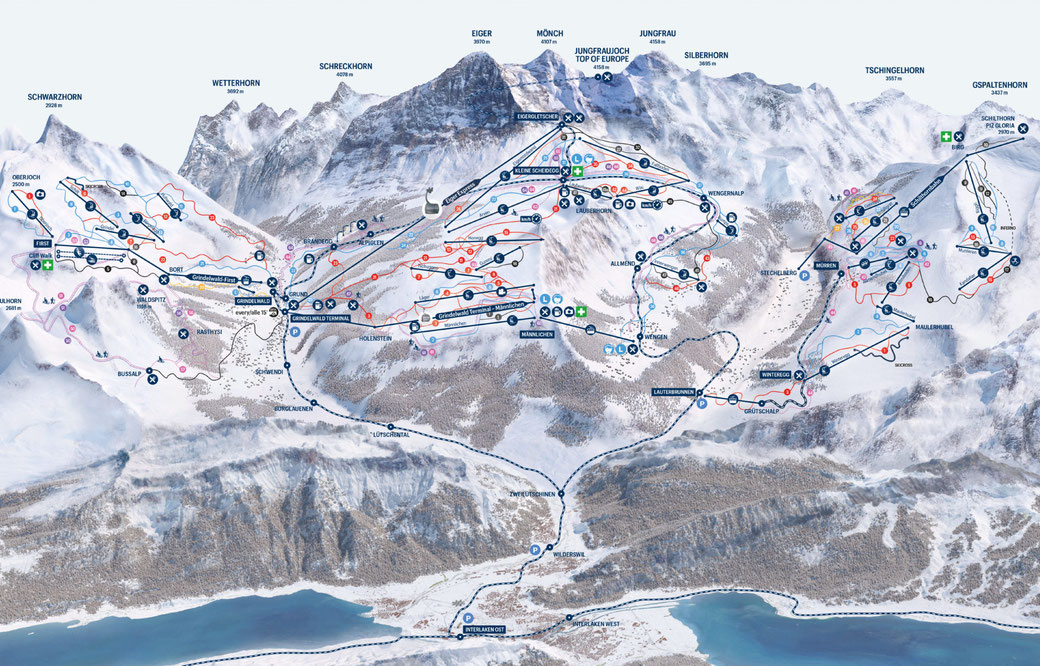 Book a stay of 2 nights or more at the adventure hostel Interlaken
The adventure hostel Interlaken is one of the participating winterlaken accommodations that makes for a fantastic ski weekend or skiing holiday base. With our comfortable rooms (from single rooms to six bed rooms and everything in between), a complimentary and free breakfast buffet and direct views of the Eiger, Mönch and Jungfrau mountains you will feel the mountain magic immediately. Stay with us from 30 CHF per person per night.
This means you can stay at the Adventure hostel AND buy a Winterlaken card that in total is cheaper than a full price ski pass for the Jungfrau region (75 CHF a day). With a free breakfast on top!
Perfect location to ski in a different area each day
The adventure hostel interlaken is located both right next to the Interlaken old town and a bus stop that will bring you directly towards the ski lifts in Grindelwald, Lauterbrunnen, Wengen or Mürren. Matter of fact is you can choose a different ski resort each day!
On arrival we will hand you your personalized winterlaken card and you are immediately good to go. The card can also be used as a winter hiking and sledging pass that gives you access to Europe's longest sledging track and an extensive network of stunning winter walking trails.
Top Fondue Tip
Have a fondue feast at the hostel in our fondue villa or better even grab a fondue backpack to create your own mountain top fondue experience for your skiing lunch!