This winter Interlaken will be hosting a most impressive Labyrinth. Not a corn maze or a regular labyrinth but one made up completely of disused and donated Christmas trees. From the 13th of January until the 19th of February you can then go explore, get lost into and be mesmerized by Interlaken's Christmas tree labyrinth & maze. With this great initiative Interlaken once again transform from Interlaken into Winterlaken wonderland!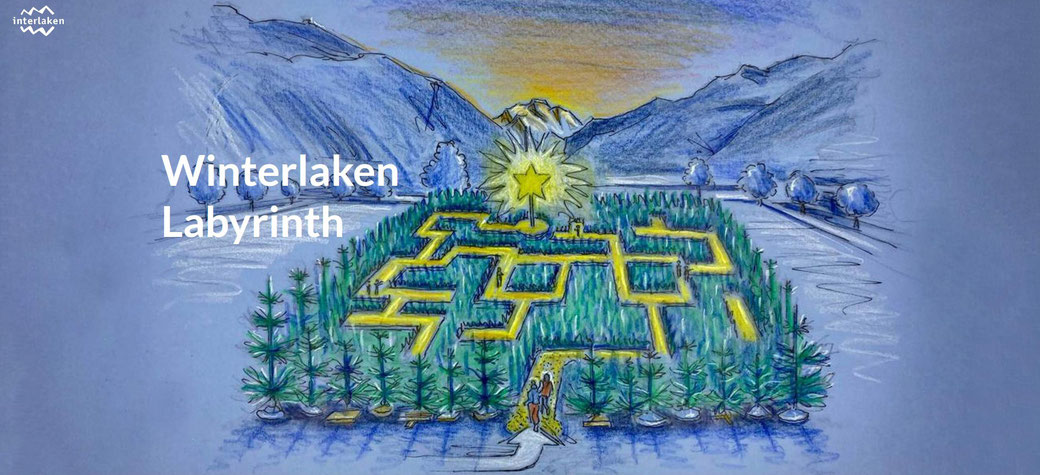 Interlaken Christmas Tree Labyrinth
This winter most of Interlaken's used and unsold Christmas trees are given a second home at the Winterlaken Christmas tree labyrinth. Anyone that wants to get rid of their used Christmas tree can donate their tree to the innovative labyrinth located right in the centre of Europe's adventure capital. Many shops and suppliers have promised to bring and donate their unsold Christmas trees to this great initiative and together thousands of tree will be used to create a unique labyrinth that will make the Christmas spirit linger over Interlaken a little longer than anywhere else.
From January 13th to February 19th, 2023 you can merrily visit the Winterlaken labyrinth on the Höhenmatte with your loved ones free of charge. Winding paths made of wood chips lead through a mesmerizing forest of disused Christmas trees. The glow in the dark walkways make it visually stunning and make an evening visit highly worth it. By using a special biodegradable, fluorescent spray on the woodchips that make the walkways your journey through the the labyrinth becomes truly magical at night.
The labyrinth is open daily and is located in the north-western part of the Höhematte. In the wintry maze you will encounter different dead ends, discover magical figures and run into many unexpected surprises. Fun for young and old guaranteed!
Donate your Christmas Tree to the Labyrinth
Donate your unused tree on January 6th or January 7th to become a building block of Switzerland's biggest and only Christmas tree labyrinth. Hand in your Christmas tree from 9 a.m. to 12 p.m. or from 2 p.m. to 5 p.m. on the Höhenweg at the corner of Grand Café-Restaurant Schuh. You will receive a little surprise in return.
Trees over 1.60meter in height are preferred and the trees should be stripped from all decorations, lights and candles.
Do know that your tree donation is also an important contribution to the sustainable use of Interlaken resources. After the labyrinth finishes on February 19, 2023 the trees' journey continues as all trees are then handed over to fishing associations, farms and animal parks for further use.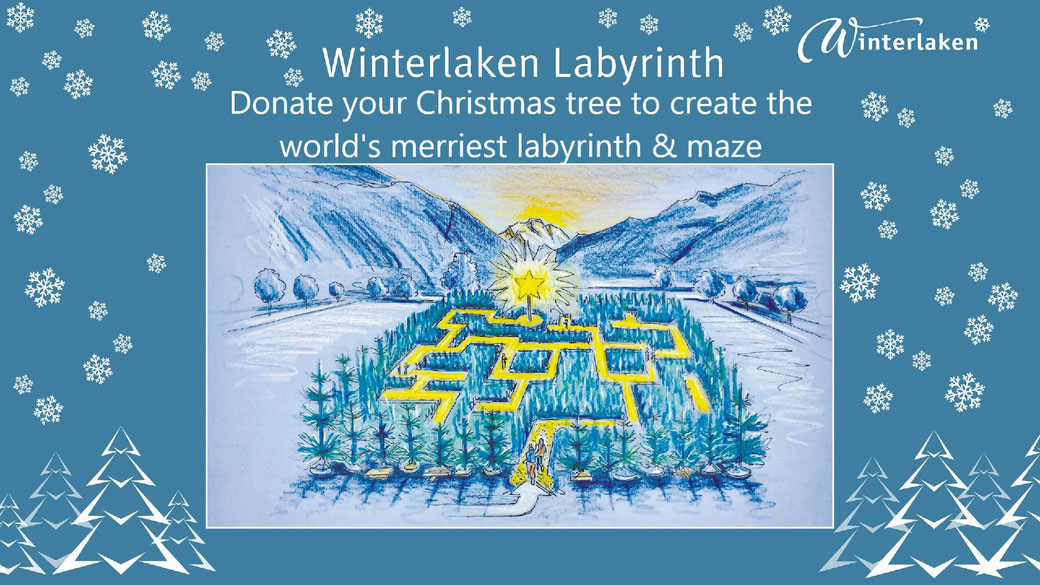 And go Night Sledding in Interlaken afterwards
Why not combine your visit to the labyrinth with a fun and trilling evening or night sledding adventure in Interlaken. Hop on the night sledding shuttle that drops you off high in the Swiss alps after which you get a sledge and zip down a snowy track under a starlit sky. Steer your sledge past a frozen waterfall and fairytale like snow covered trees to experience the true Swiss winter magic.
Finish the adventure off with a fantastic fondue feast and you can't get any more Swiss.
For more information about this epic Interlaken Night Sledding & Fondue adventure have a look at all the info here.