You have a hammer in one hand and a beer in the other as you and your friends are standing around a tree trunk in a beautiful garden in Interlaken with a view of the Eiger, Mönch and Jungfrau. The goal is right in front of you: a nail. The task: who sinks the carpenter's nail into the stump with the fewest hits possible? This is stump, Interlaken's fun & engaging group activity. The stakes are high as the loser has to buy a round of drinks for the group!
Lets hit it off….
Group Activity Interlaken: Play Stump at the Adventure Hostel Interlaken
Stump is a fun, outdoor engaging game based around skill & luck that is best played with a group of friends while having a beer or two. An excellent group activity now available at the adventure hostel interlaken, just 7 minutes by foot from the interlaken west train station. 
Grab some beers from our bar from just 3.50 CHF and get nails and a hammer for free to play a few rounds of stump in our lush adventure garden.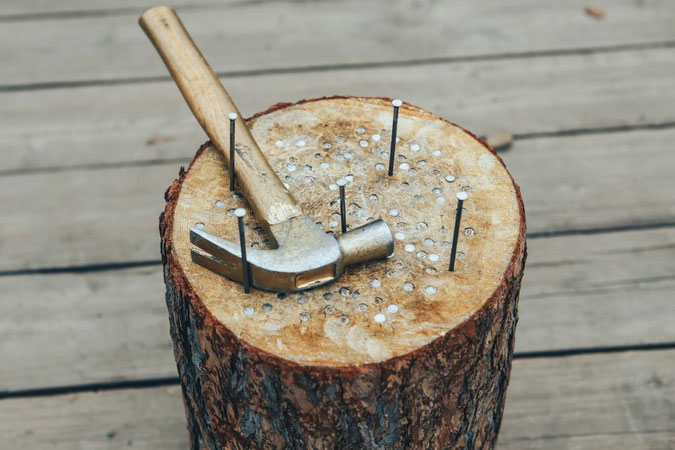 Play Stump in Interlaken
Buy a beer and get 5 nails for free
10 extra nails for 2 CHF
30 extra nails for 5 CHF
Give us a call on +41 79 827 27 27 to reserve your stump!
More Interlaken Group activities
While you are at it you might want play a round of giant Mikado or giant XXL Jenga in our garden too or have a delicious cheese fondue in our garden for just 25 CHF with bread, potatoes, pickles, silver onions, cherry tomatoes and pineapple….
Plenty to do for groups visiting Interlaken at the adventure hostel Interlaken.
---
Nageln: Das Nagel Treff Spiel als Gruppenaktivität in Interlaken
Du hast ein Hammer im Hand und ein Bier im anderen weil du und deine Freunden um ein Baumstamm in eine schöne Garten in Interlaken stehen mit sicht auf der Eiger, Mönch und Jungfrau. Das Ziel ist gerade vor dir: ein Nagel. Die Aufgabe: wer versenkt den Zimmermannsnagel mit den wenigsten Hammer Schlägen im Holzstamm? Das ist Nageln, das Nagel treff Spiel bei dem der Einsatz hoch ist, da der Verlierer eine Runde Getränke für die Gruppe kaufen muss!
Gruppenaktivität Interlaken: Nageln beim Adventure Hostel Interlaken
Naglen ist ein lustiges, fesselndes Outdoor-Spiel, basiert auf Geschicklichkeit und Glück, und am besten mit einer Gruppe von Freunden gespielt wird, während man einigen Bierli trinkt. Eine hervorragende Gruppenaktivität jetzt im Adventure Hostel Interlaken, nur 7 Gehminuten vom Bahnhof Interlaken West entfernt.
Holen Sie sich ein paar Biere von unserer Bar ab fur nur 3.50 CHF und erhalten Sie kostenlos Nägel und einen Hammer, um in unserem üppigen Garten ein paar Runden Nageln zu spielen. Eiger, Mönch und Jungfrau aussichten sind inklusiv.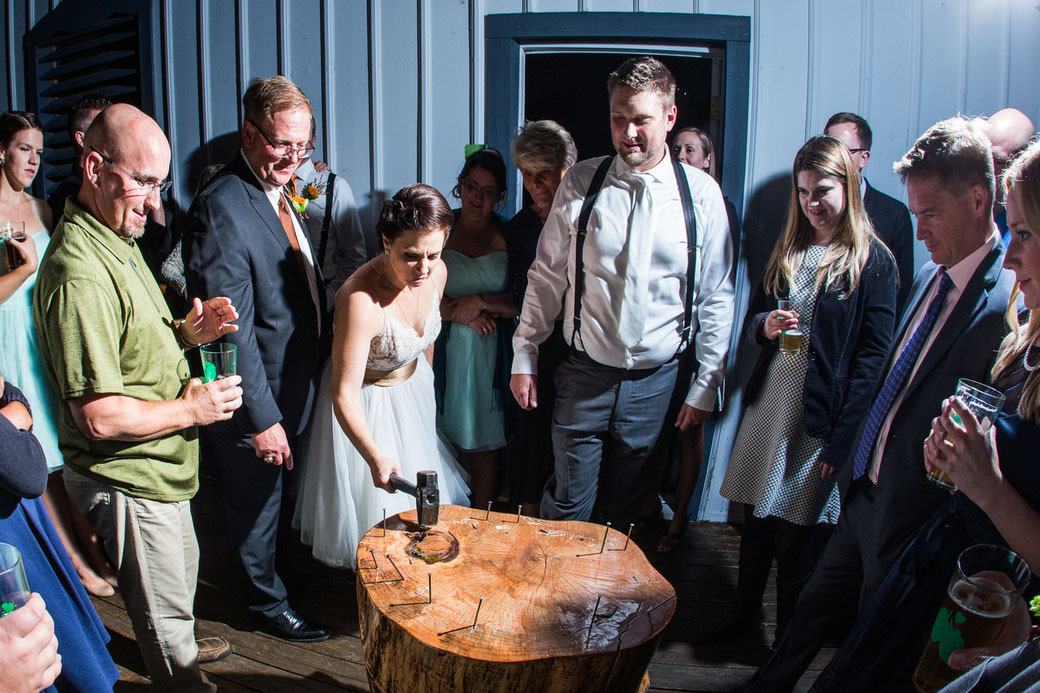 Nageln Spiel Interlaken
Kaufe ein Bier und erhalte 5 Nägel gratis
10 zusätzliche Nägel für 2 CHF
30 zusätzliche Nägel für 5 CHF
Rufen Sie uns an unter +41 79 827 27 27 um Ihren Baumstamm zu reservieren!
Weitere Gruppenaktivitäten in Interlaken
Vielleicht möchten Sie auch eine Runde Riesen-XXL-Mikado oder Riesen-XXL-Jenga in unserem Garten spielen oder geniesse mit deine Kumpels ein leckeres Käsefondue in unsere Garten für nur 25 CHF mit Brot, Kartoffeln, Essiggurken, Silberzwiebeln, Kirschtomaten und Ananas….
Bei uns im Adventure Hostel Interlaken gibt es viel zu tun für Gruppen mit mehre Gruppenspiele und Aktivitäten.