At the adventure hostel Interlaken we know a group event is guaranteed to succeed with good food, fun activities and a unique location. Combining a stay at our 1901 built villa with one of our delicious catering options while playing a game of stump (nageln) you are sure to get smiley faces and satisfied bellies.

P.S. you can download our group catering menu at the bottom of this post in PDF format.
"Eat, Sleep, Adventure, Repeat" 
Indiana Jones
"One cannot think well, love well, adventure well, sleep well if one has not dined well."
Virginia Woolf
GROUP BUFFETS for hungry ADVENTURERS
For groups staying at the adventure hostel Interlaken, and outside groups looking for food options, we offer two buffet style catering options: a fondue a discretion or a pizza/flammkuchen buffet.
Included is plenty of food, water to hydrate, a beer or glass of wine per person plus coffee/tea afterwards. Deserts are optional at a surcharge
FONDUE a discretion
A Swiss cheese fondue a discretion (all you can eat Fondue)is always a good idea when you want to be sure of a fun & delicious group dinner. Our unlimited swiss cheese fondue includes lots of cheese, bread, potatoes, pickles, onions, cherry tomatoes & pineapple.
Included is one bottle of white wine per caquelon (4 people) plus coffee/tea after dinner.
Price 25 CHF p.p. (min 20 people)
30 CHF p.p. (10 to 20 people)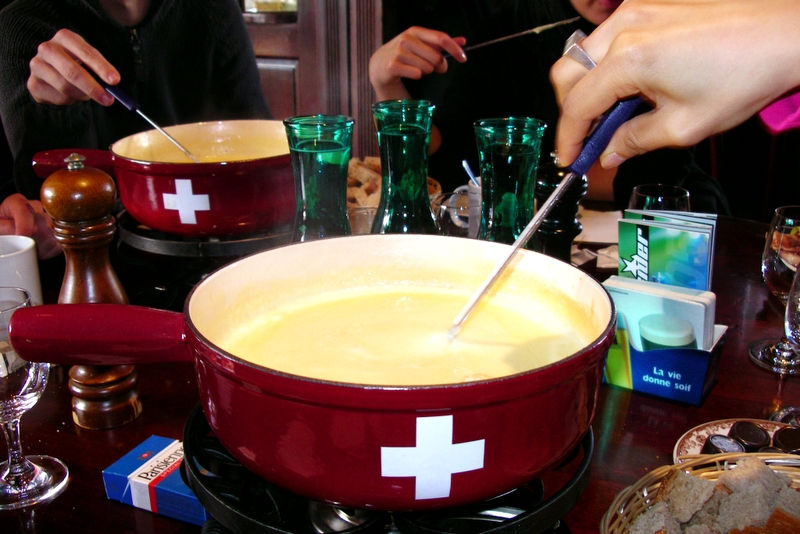 PIZZA, FLAMMKUCHEN & SALAD BUFFET
A pizza & flammkuchen buffet complemented with salad including a diverse range of meaty, veggie and cheesy pizzas & flammkuchen you can eat until you drop. Add to that our fabulous pesto flammkuchen plus our sweet apple/cinnamon & banana/chocolate pizzas and you know you have arrived in pizza and flammkuchen heaven!
Included is a beer or glass of wine per person plus coffee/tea after dinner.
Price 25 CHF p.p. (min 20 people)
30 CHF p.p. (10 to 20 people)
Deserts
Our desert options are as follows:
Ice cream mixed flavours 3.00 CHF p.p. (two big scoops)
Apfelstrudel 3.00 CHF p.p.
Ice cream & Apfelstrudel 5.00 CHF p.p.
Drinks
Beers 3,50 - 5,00 CHF for 0.5L depending on type
Soft drinks from 2,50 CHF
House Wine 2,50 CHF per glass, 9 CHF for 0.5L or 15 CHF for 1L
(red or white wine)
Water for free
Play fun activities before your meal
As we prepare your tasty group buffet you can play a fun game of stump (nageln) while enjoying a beverage or two… Buy any beer (starting at 3.50chf for 0.5l cans) and borrow a hammer and get 5 nails for free.
Or
10 nails for 2 CHF
30 nails for 5 CHF
Ask our staff for an explanation or a few fun game variations to spice up the gameplay!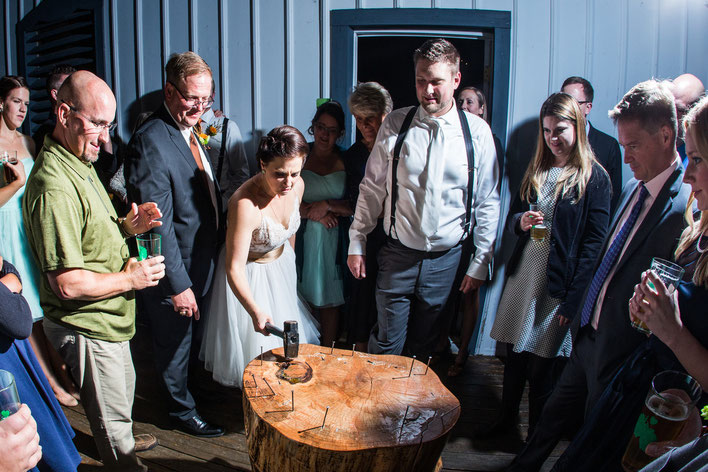 Download our Group Catering Menu options
Group Catering Menu options Adventure Hostel Interlaken
Our food options for groups from 10 to 50+ people at the Adventure Hostel Interlaken
Catering menu options Adventure Hostel.p
Adobe Acrobat Document
479.1 KB