Switzerland's landscape is stunning and best viewed from within a comfortable train, bus or cable car. This way you can combine traveling with sightseeing without having to keep your eyes on the traffic. Add to this the fact that the Swiss public transport system is modern, super comfortable and very punctual, making it one of the best ways to travel through this Alpine wonderland. The Swiss travel pass makes this all possible in a cheap, convenient and fun way!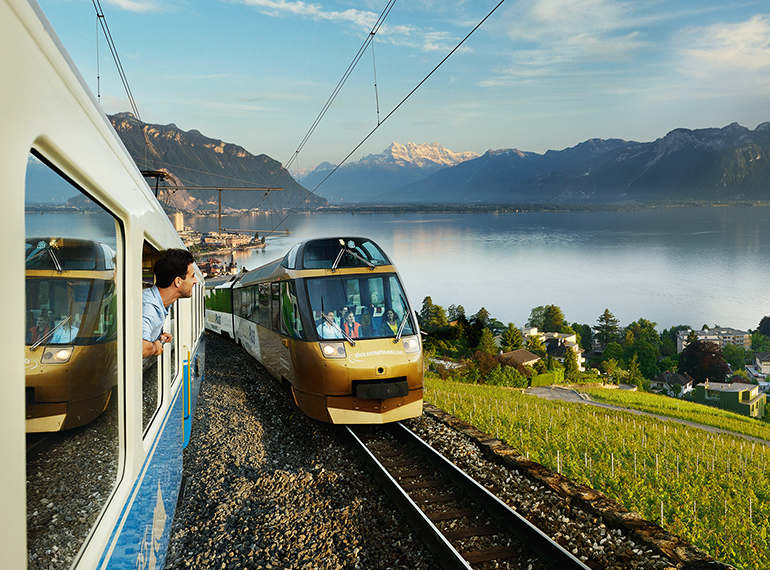 Fun Fact: Did you know that Switzerland, in spite of its inaccessible mountain landscape, has the highest railway density in the world! You can literally reach the entire country by train, mainly supported by the fact that they also have the highest amount of transport tunnels in the world.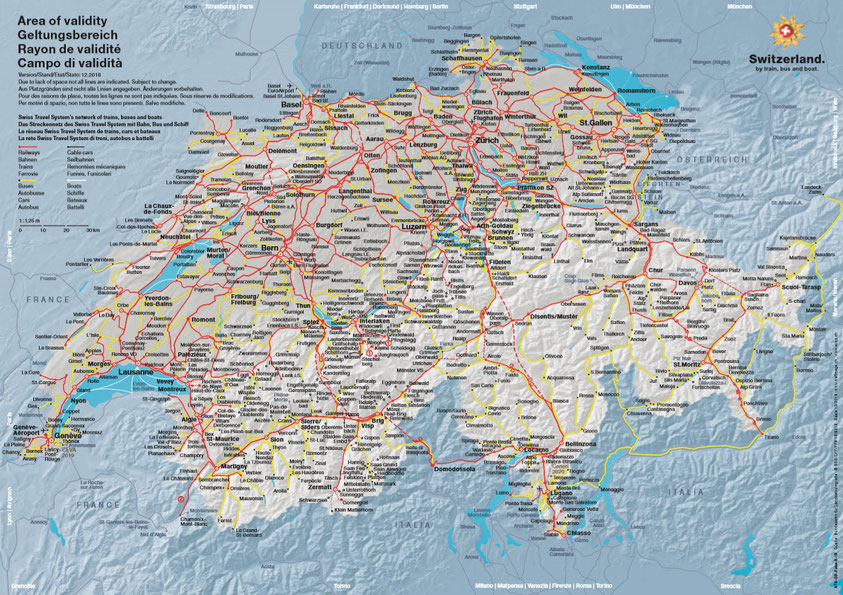 On the Swiss public transport map above the red lines show railways, yellow are bus lines, black depict cable cars and white are the boats that roam the stunning Swiss lakes. 
Cheap, convenient & scenic travel through Switzerland
One of the best value ways to use this excellent Swiss railway infrastructure is by getting the Swiss pass. It allows you to unlimited travel by (long-distance) train, (local) bus & boat for a given time period. On top of that it gives you many discounts on museums & excursions and amazingly children up to 16 years travel completely FREE of charge with their parents. It really is an amazing option for people & families traveling Switzerland and visiting Interlaken in particular. 
Read on for all the details...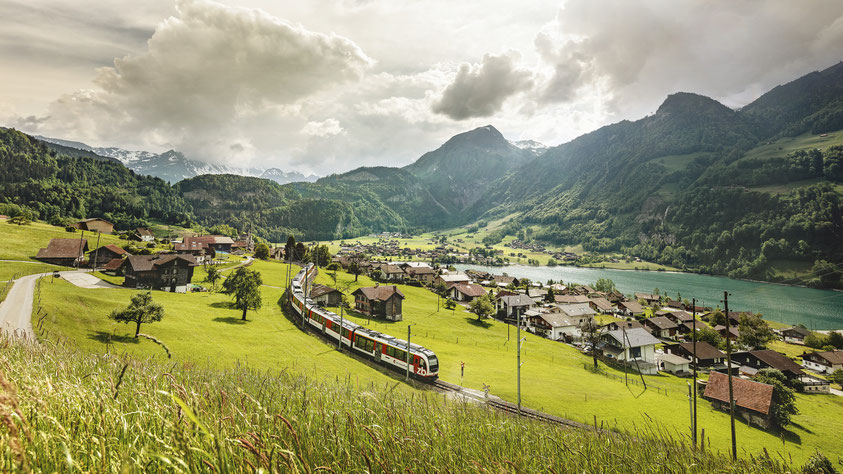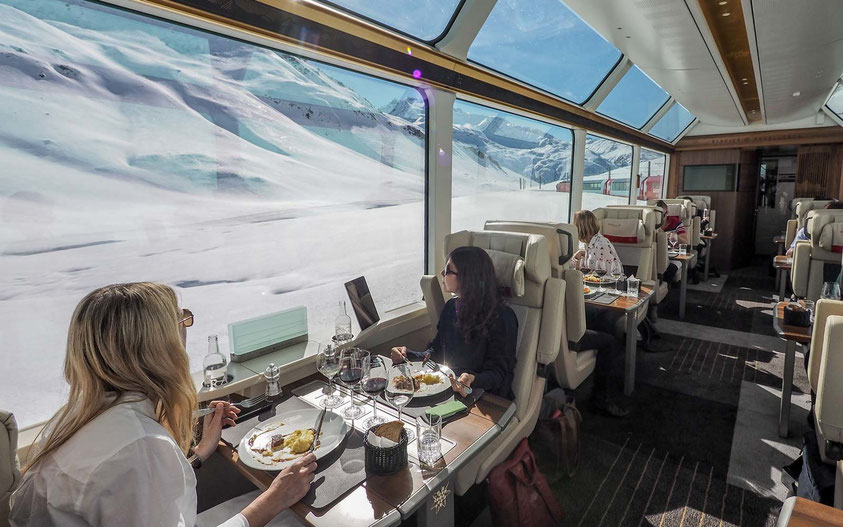 Swiss Travel Pass
The Swiss Travel Pass transport ticket enables visitors to explore Switzerland from end to end by train, bus and boat on 3, 4, 8 or 15 consecutive days. 
For families it lets your children (up to the age of 16 years) completely FREE of charge!!
If you are a backpacker or traveler aged 26 or younger, you can get the Swiss Travel Pass Youth, which comes at a 15% discounted price off the regular Swiss Travel Pass.
Swiss Travel Pass Benefits
Unlimited travel by train, bus and boat. View all areas of validity here
Unlimited travel on premium panoramic trains (seat reservation fees and/or surcharges apply).

The Jungfrau 'Top of Europe' requires a surcharge and in the high season a seat reservation (5 CHF) might be required.
Swiss Travel Pass gives you a 100% Discount for the journey from Interlaken to Lauterbrunnen/Wengen and Grindelwald. This is the first part of the Jungfraujoch 'Top of Europe' journey. From there you have to buy an extension that lets you travel the last part to the 'Top of Europe'. For this section the Swiss Travel Pass gives you 25% Discount.
You can find more practical info on reaching the Jungfraujoch 'Top of Europe' here in one of our previous blog posts. 

Unlimited use of public transport in more than 90 towns and cities.
Free admission to more than 500 museums.
Mountain excursions included: Rigi, Schilthorn, Stanserhorn and Stoos

As you can see Interlaken's Schilthorn mountain (of James Bond movie fame) is included in the Swiss travel pass

Up to 50% discount on many other mountain excursions.
Up to 30% discount on SBB RailAway offers. Available at all ticket counters within Switzerland.
Children under 6 years of age who are accompanied by a holder of a valid Swiss Travel System ticket travel free of charge.
Children from their 6th up to their 16th birthday accompanied by at least one parent (holding a Swiss Travel System ticket) travel free of charge with the complimentary Swiss Family Card. You can get the Swiss Family Card free of charge while ordering a Swiss Travel Pass.
For ultimate convenience you can get the Swiss Travel Pass as a print @home ticket allowing you to immediately hop on to the train after arrival in Switzerland.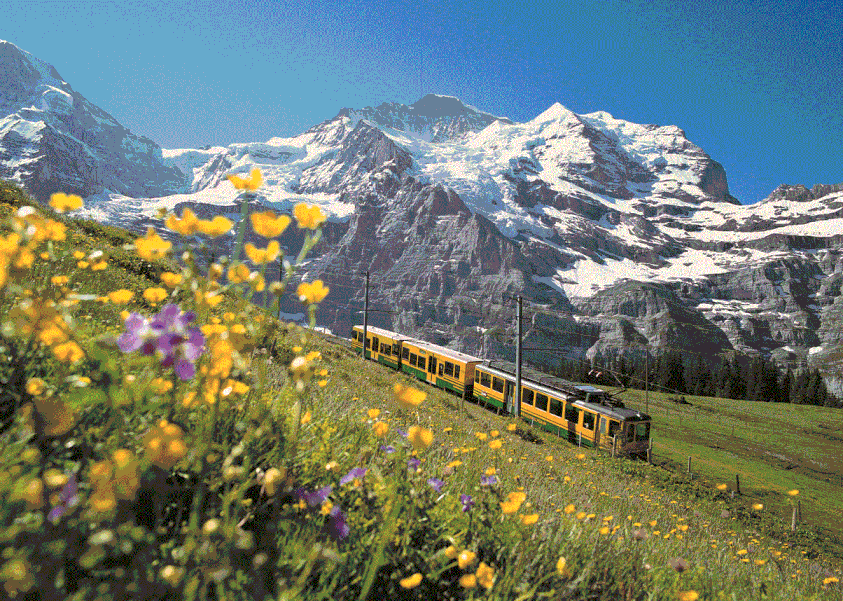 Swiss Travel Pass Prices
The Swiss Travel Pass Prices can be found in the table below. Compared to individual train and public transport tickets these are very affordable rates for Switzerland.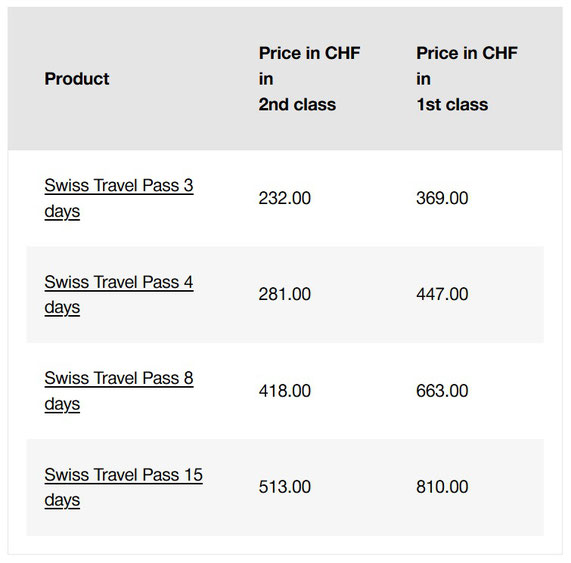 Swiss Flex Travel Pass
The Swiss Travel Pass Flex is another option for visitors of the land of Chocolate and Cheese.  The Swiss flex travel pass is valid on 3, 4, 8, or 15 freely selectable days within one month, giving you more flexibility if you want to travel a bit slower and explore Switzerland more extensively.
Swiss Flex Travel Pass Benefits & Prices
On the validated travel days the flex pass gives you the same benefits as mentioned above for the normal Swiss Travel Pass.  
Check out the Swiss flex travel pass prices below.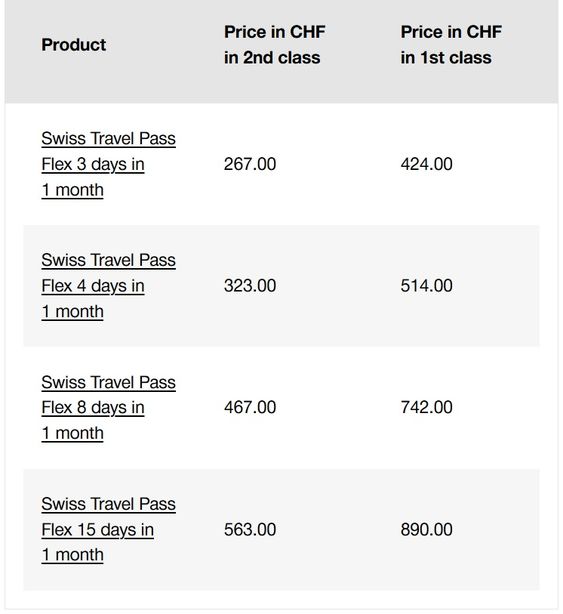 More info & Bookings