The Gelmerbahn is many things at once: a rollercoaster, a hidden gem, an attraction in an unbeatable high-alpine scenery, a super steep funiculaire, a gorgeous lake destination, a scenic backpack fondue spot and of course a ride of a lifetime. The beauty of this unique rollercoaster is that it is easily reachable from Interlaken for an exciting, original and slightly off-the-beaten path experience you won't regret.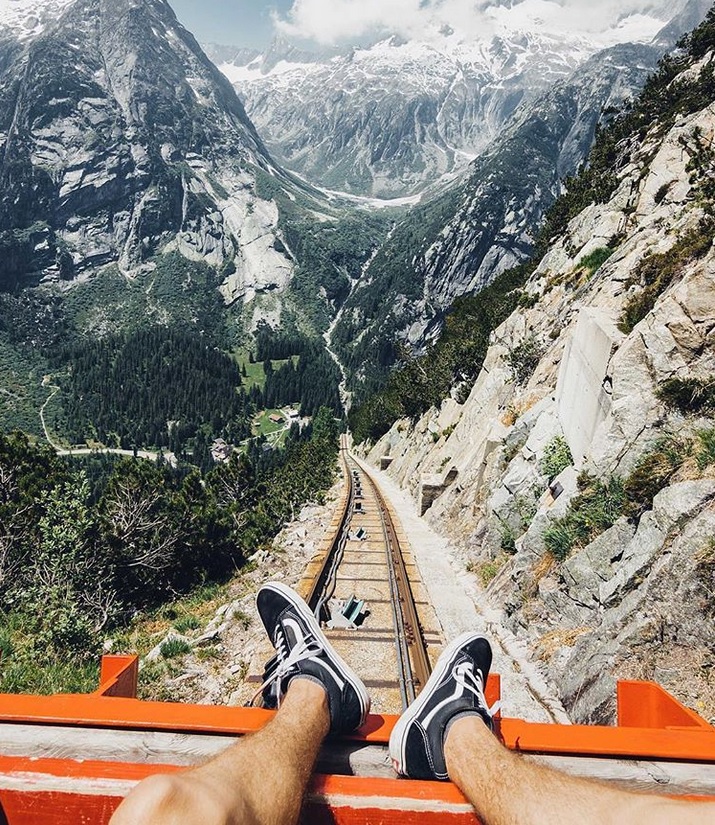 Gelmerbahn, Switzerland's uqnique Alpine Rollercoaster & Europe's steepest Funiculaire
The Gelmerbahn's fame stems from its funiculaire's super spectacular steepness of 106%
Add to that the fact that the funiculaire, a cable-pulled railway up the mountain, is convertible style with no roof above your head. The open carriages make the views around you, and definitely down into the steep valley, even more impressive.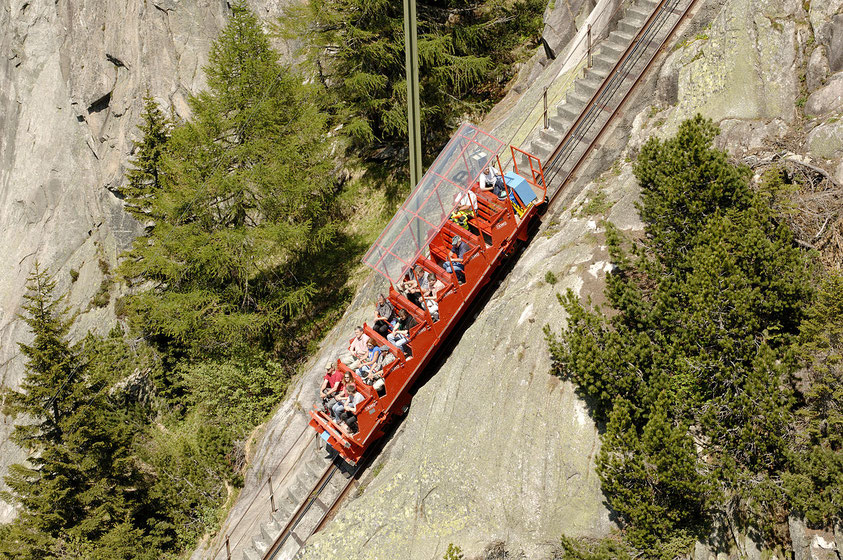 The Gelmerbahn's 106% gradient makes it Europe's steepest open-air funiculaire which definitely adds to the appeal of this unique attraction which very much resembles a rollercoaster...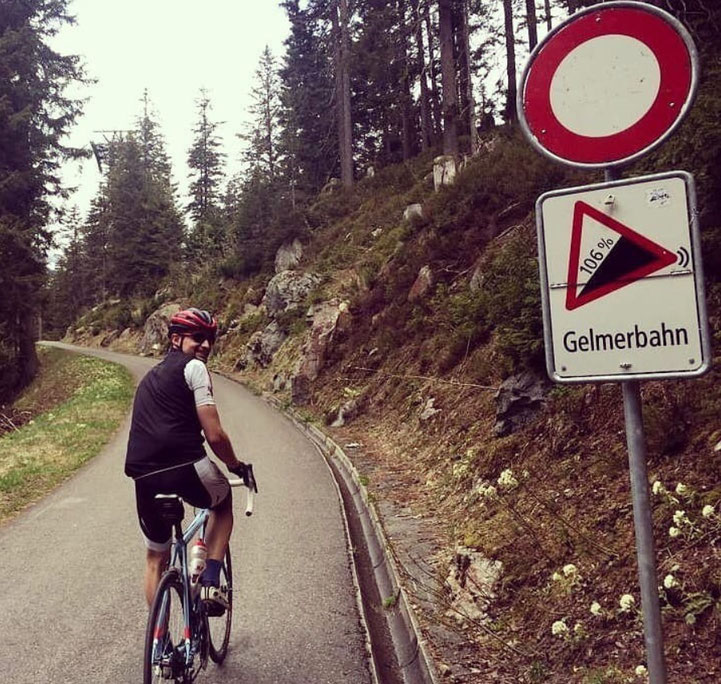 Gelmerbahn is the ultimate Alpine Rollercoaster
The Gelmerbahn, built in 1926, only opened to the public in 2001 when the hydropower company that produces hydroelectricity from the dams near the Gelmerbahn and Grimsel pass decided to turn it into a tourist attraction. Up until then it had merely been in service to provide employees with access to the many dams and turbine plants on the mountain pass.
The Gelmerbahn got famous only recently when a video of a ride up the unique rollercoaster funiculaire went viral on the internet. Check out the video below and you will immediately understand why…..
Make sure you watch till the end!
Gelmerbahn practical info
The passenger car takes 24 people on a 12-minute ride up the steep mountainside from Handegg, 1400m above sea level with sweeping views over Hasli Valley, to Lake Gelmer (1800m) where there are many hiking trails to explore. This stunning locations makes for an excellent outdoor fondue spot with our fondue backpack.
Many people opt for a one-way ticket while hiking the return journey. You'll be strapped into the open air car by a single metal bar, and if you've got a fear of heights, it's best to prepare yourself for the thrill of a lifetime. While it is extremely steep, this railway isn't a rollercoaster, it only goes 4.5 miles per hour, which gives you plenty of time to take in the epic surroundings, and still have your stomach drop.
The Gelmerbahn is open from May 26th to October 21st. Its hours are from 9 AM-4 PM in June, September, and October, and from 9 AM-5 PM in July and August.
How to get there
The Gelmerbahn begins at Handegg in the Hasli Valley. You'll want to make your way to the Handegg, Gelmerbahn bus stop, or get Google Maps directions here.
The drive by car will take approximately 45 minutes.
People traveling by public transport take the train to Meiringen and/or Innertkirchen from Interlaken Ost (East). From Meiringen and/or Innerkirchen you subsequently jump on bus number 161 or 171 (depending on which time of the day you go) which brings you up to the Handegg, Gelmerbahn bus stop.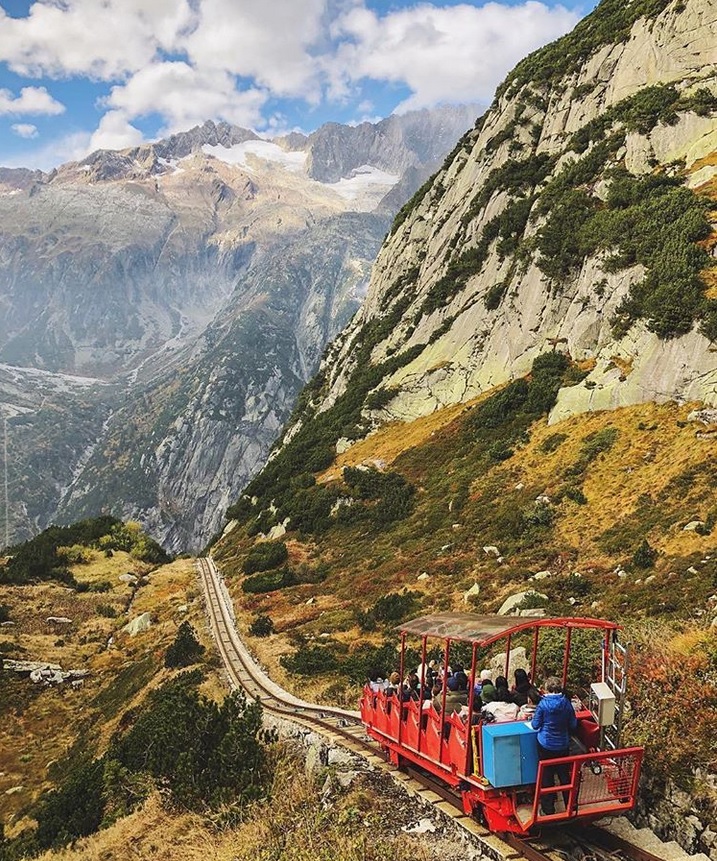 Reserve your Gelmerbahn ticket online
The Gelmer rollercoaster funiculaire is a popular tourist attraction and due to its limited capacity sells out fast in the high-season. Best is to reserve tickets and a time slot online here.
So pack your day-pack and head out because the Gelmerbahn will simply be the most gorgeous thrill ride of your life!