Did you know that the most beautiful street of Europe is located just a stone's throw away from Interlaken and the adventure hostel? This hidden little gem of a street is definitely worth a visit.…
Brunngasse, the most beautiful street in Europe
The Brunngasse was voted Europe's most beautiful street and for good reason.
The stunning street is located in Brienz, the woodcarving village on the shores of lake Brienz.
In Brienz, you will find alleys and chalets that look like they came straight out of a picture book. The fabled Brunngasse is lined by houses from the 18th century and the curving alley is dotted with stout wooden chalets, each seemingly trying to outshine its neighbour in both splendour and colour. All of the street's houses are decorated with abundant flowers lending it a very colourful feel with window displays of vines, kitsch gnomes and billowing geraniums.
Check it out below for yourself….it really is fairytale like worthy!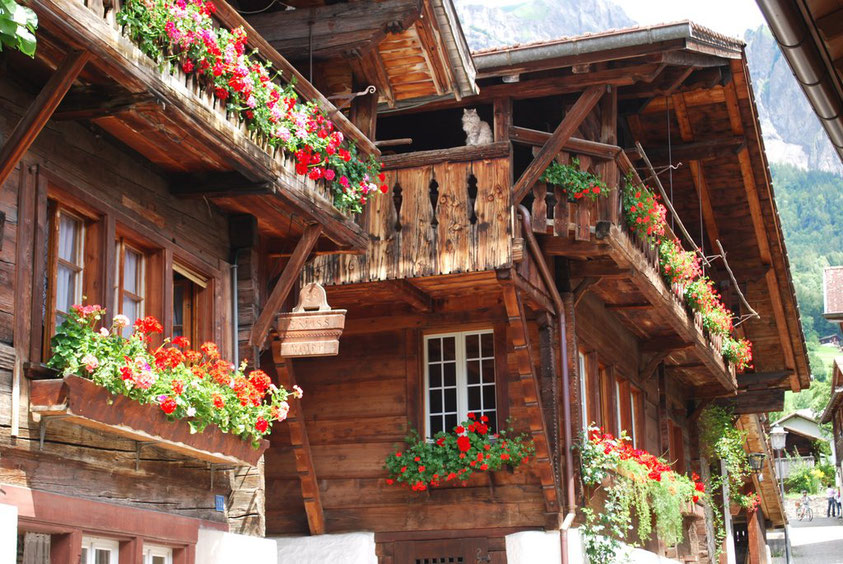 Other things to do in Brienz
Brienz is affectionately called the woodcarving village due to its long tradition of wood-working which is still visible today. While wandering its quaint streets and pretty lake promenade you can find woodcarving statues abound. Most of the houses date back to the 18th century and are embellished with woodcarvings. To really take the plunge of woodcarving you can visit the School of Woodcarving and the Woodcarving Museum, both of which are well worth a visit. You can even carve wood yourself while you learn about all the traditional methods and techniques.
Another epic experience is taking the Brienzer Rothorn steamer train!
Getting to Brienz and the Brunngasse from Interlaken
The nicest way to get to Brienz from Interlaken, and the adventure hostel, is by boat. You can board the ferry from the port right behind the Interlaken East (Ost) train station. It is an extremely scenic journey passing other lake Brienz highlights (Iseltwaldt & Giessbach waterfall) along the way. More detailed info can be found here. 
Alternatively you can take a train from the Interlaken East train station that brings you to Brienz in 21 minutes. For more info and tickets check out sbb.ch