Switzerland's mountain views are world famous and unique. It is the combination of the pristine snow capped mountains, the bright green meadows and the emerald blue lakes that are one-of-a-kind. The crown jewel among all this natural beauty is Interlaken and the Jungfrau region, home of Switzerland's most impressive mountain: the Jungfraujoch with its amazing Top of Europe and Europe's biggest glacier! And all of those can be seen directly from the adventure hostel Interlaken.

unique Eiger, Mönch & Jungfrau views from the Adventure Hostel Interlaken
You wake up in the morning, walk down to our living room area for the free complimentary 'all-you-can-eat' breakfast buffet and grab a cup of coffee. You sit down at the window or in our garden and look around at all the mountains that immediately surround the Adventure Hostel Interlaken. There are plenty of mountains but three white peaks stand out. They are the famous Eiger, Mönch & Jungfrau mountains that are part of the Top of Europe. 
The Adventure hostel Interlaken is the only hostel in Interlaken that has unrestrained views of all three of these mountains.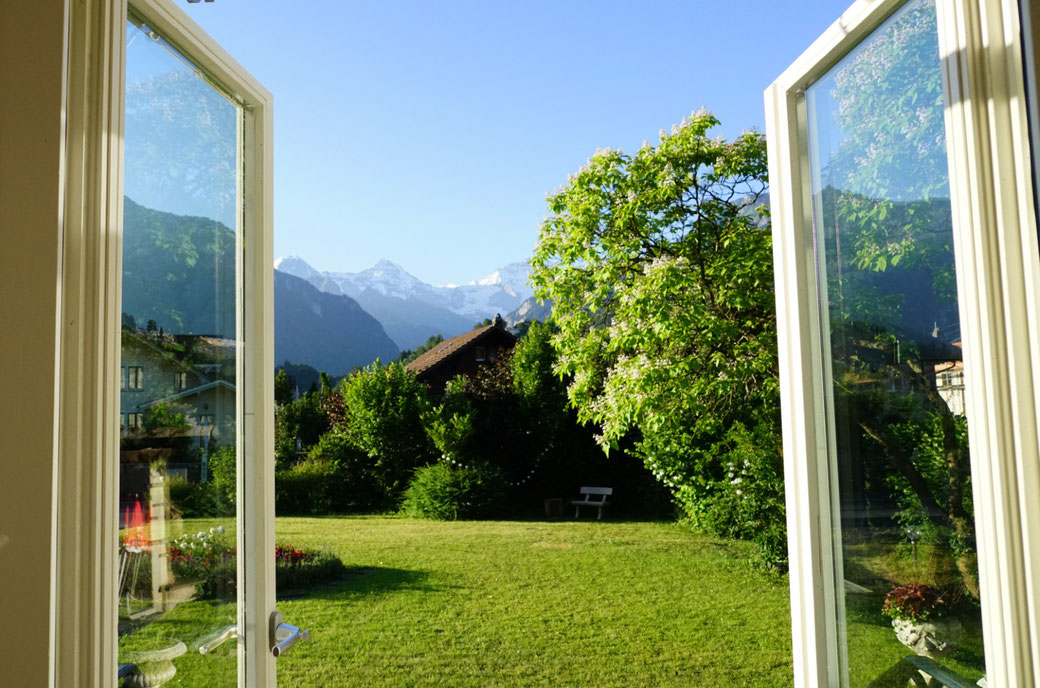 Adventure hostel Interlaken was 5-star Victoria Jungfrau's desired location
The views from the adventure hostel are the best in Interlaken. They are that good that the famous 5-star hotel Victoria Jungfrau originally wanted to build their world-class hotel on exactly the same location that the Adventure hostel is situated at. The Victoria Jungfrau management had problems acquiring all the land that they would need for their big hotel and eventually they abandoned their plan to build a hotel with the best views in Interlaken. Eventually they settled for their current location at the Höhematte where their views are limited to just the Jungfraujoch.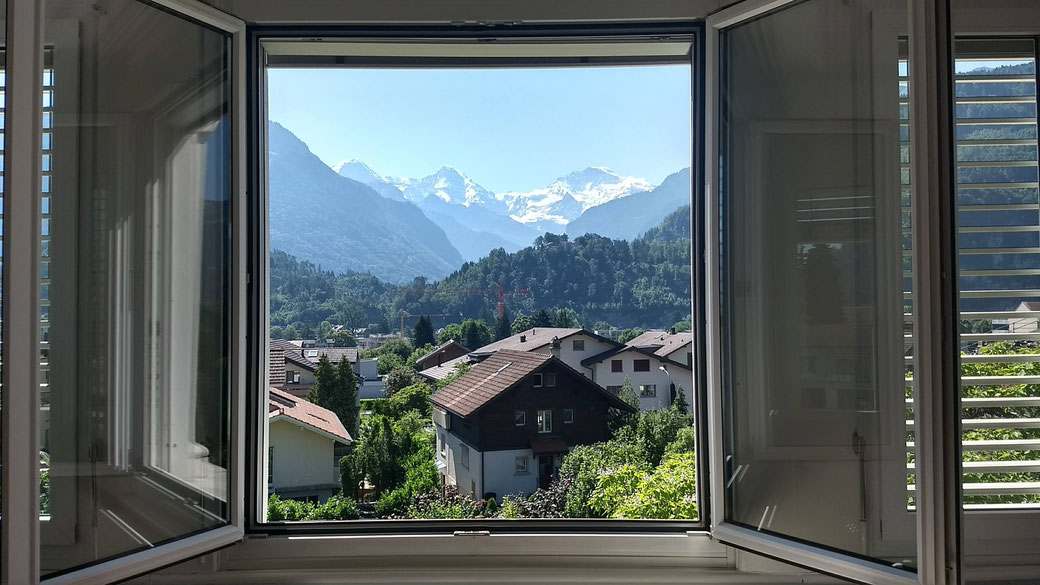 Best views in Interlaken: #bestviewsinterlaken
So you see, the adventure hostel Interlaken simply has the best views in Interlaken. Not only on the Eiger, Mönch & Jungfrau mountains in front of the hostel. But also onto the surrounding Harder Kulm, Schynigge Platte, Niederhorn, Sulegg and Morgenberghorn. All of those can be seen sitting in our garden and we promise you: our view will blow your mind!
And if you happen to take a picture of any of those gorgeous peaks just use #bestviewsinterlaken to show the world how gorgeous those views are!